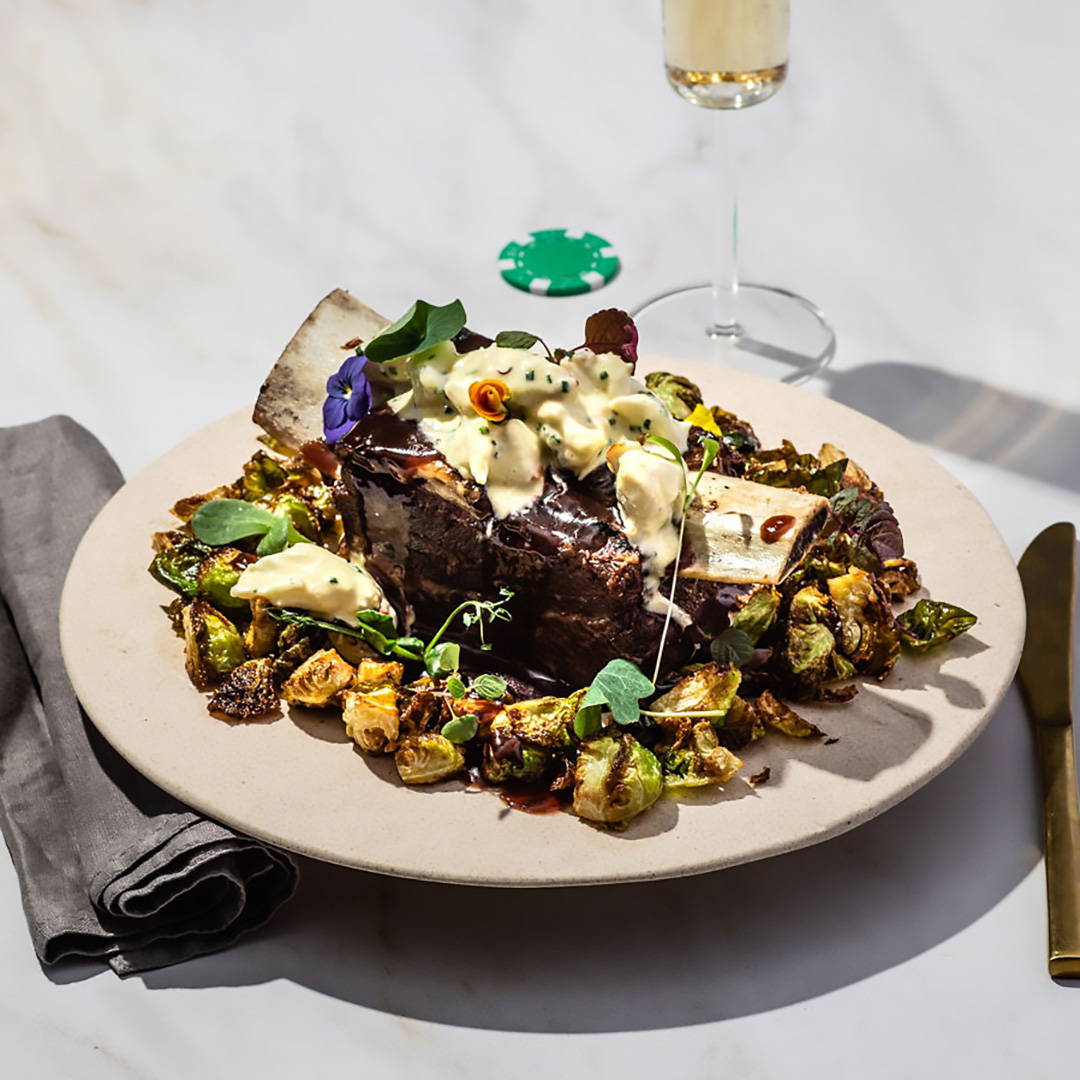 Preheat oven to 400º F. Split the Brussels sprouts into quarters.
Pick over the crab meat and remove any stray shells.
Carefully remove the short rib from the sous-vide pouch, saving any jus. Using a sharp knife, cut between the two bones to create three more-or-less even pieces.
Toss Brussels in 2 tablespoons of the oil and the salt and pepper. Spread on a lined cookie sheet and roast in the oven for 15 minutes. Stir, then roast another 5-10 minutes until brown and crispy.
In a large oven-safe pan, heat the remaining oil till shimmering. Place the 3 ribs in the pan, cut side down, and sear for 4 minutes. Turn over carefully and sear on the other side for 4 minutes. Lastly, turn the short ribs so that the bone is on top. Add the reserved jus to pan and place in the oven for 15 minutes. Add sauce to pan and return to oven for 5 minutes to heat through.
Whip eggs in a medium stainless-steel bowl until smooth and creamy.
Bring the beurre blanc jus to a simmer in a small saucepan. Slowly pour the hot beurre blanc into the whipped eggs, stirring constantly, to make hollandaise. Return mix to saucepan and keep warm. Add the crab to a bowl and pour enough hollandaise over to just cover crab, and keep warm.
To plate, place 1 short rib, bone up, on each plate, glazing with sauce to create a pool. Divide the Brussels among 3 plates, surrounding the rib. Spoon the hot crab onto the bone. Drizzle additional hollandaise over Brussels.